We polled experts about the paint colors homebuyers like most; here's what they said.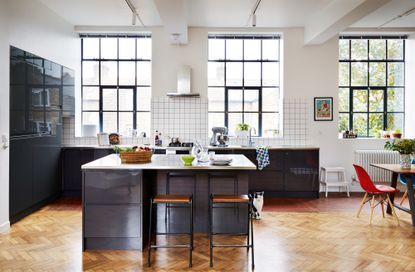 (Image credit: Darren Chung © Future)
BY 
TERRI WILLIAMS – REAL HOMES 
When it comes to painting your house before you list it, it's not about you – it's about potential buyers.
Red, orange, yellow, green, blue, purple, brown, black. The primary colors we learned in school are beautiful in a box of crayons. When you're putting your home on the market: not so much.
You may love colonial red living and dining rooms, watery blue bathrooms, and bright yellow kitchens. The problem is that buyers might not share your taste. Normally, you don't really care if other people like your taste in paint colors. But you do care when these colors could cause your house to languish on the market.
What's the best color to paint your house before putting on the market?
Neutral wins the day, say experts.
According to Candice Williams, a real estate agent at Re/Max Space Center in League City, TX, a neutral color, such as beige, light grey, or a warm white is your best choice. "Neutral colors take the attention away from the walls and redirect it to the openness and flow of a home," she says.
On the other hand, bold colors distract buyers. They can walk and chew gum, but according to Williams, they can't digest your bold colors while also imagining their own belongings in your home.  "And this changes the discussion to whether they want to deal with the hassle of painting to match their personal style."
Karen Kostiw, an agent at Coldwell Banker/Warburg Realty in New York, NY agrees. "A neutral paint palette should be used for a prospective buyer to envision their lifestyle," she says. "Warm whites, beiges and grays are the go-tos and paints now come in many beautiful hues to choose from."
The most neutral of neutrals: white.
When pressed to choose just one color, white is the overwhelming color choice among our experts – and many of them also prefer specific shades of white paint.
"The best color to paint your home is Decorators White by Benjamin Moore," says Kathryn Landow, also an agent at Warburg Realty. "A white room creates an open feeling and can make spaces appear larger, and this clean coat won't be too stark of a white and will add a modern clean feel."
Her colleague, agent George Case of Warburg Realty, admits that he's not a fan of the "just paint it all white" school of staging. "However, I love Farrow and Ball's Wimborne White, because it's warm and clean – a tough combo to beat."
We also asked a home stager, Justin Riordan, who is an interior designer, architect and founder of the Portland, Seattle and LA home staging company Spade and Archer Design Agency(opens in new tab)," for his recommendations. He agrees that white is the best color to paint your home when you want to sell it.
"We want two qualities in every house we put on the market: It should be filled with light and easy for the buyer to move into," Riordan says. And white fits the bill perfectly.
"Every color has a number assigned to it, called the Light Reflectance Value or LRV," he explains." And the higher the number, Riordan says the more light bounces off that color, as opposed to being absorbed into it. "White has the highest LVR – even higher than a mirror which is very directional in its reflectiveness, but not as efficiently as white."
He admits that he doesn't use white in extremely traditional spaces, since it can sometimes be too harsh. "Cream has just enough softness to keep the traditional space easy to read while still being light."
And the beauty of white/cream is a seamless blending in any background. "We have no idea if the new buyer will have neutral mid-century modern furniture or Louis the 16th furnishings in Rainbow Bright colors," Riordan says. But it doesn't matter, because he says the furniture won't clash with cream or white. "Keep in mind that of all the people in the world who might buy this house, you are not one of them, so design for the 'unknown buyer.'"
SO WHAT ARE THE BEST COLORS TO PAINT YOUR HOUSE BEFORE YOU SELL IT?
We got Riordan to share his specific color recommendations for walls, ceilings, and cabinets throughout the house. Here's what he recommends:
Walls: Benjamin Moore, Superwhite PM-1in Flat or Benjamin Moore, Navajo White OC-95 in flat
Trim, cabinets and doors: Benjamin Moore, Superwhite PM-1 in semigloss or flat
Ceilings: Benjamin Moore, Benjamin Moore Superwhite PM-1 in flat
Bathroom walls and ceiling: Benjamin Moore, Superwhite PM-1 in eggshell
Kitchen walls: Benjamin Moore Superwhite PM-1 in Eggshell or Benjamin Moore, Navajo White OC-95 in eggshell